How Fiction Works - James Wood 20090312428472,9780312428471

Book Required This is the main set text for the subject and the only one you are required to buy. It's been ordered at the coop but might not arrive. If it doesn't, it's available at booktopia.com.au, probably Readings, and definitely other places online. This is a book you can read over and over and learn from again and again, so please buy it.

Week 1 Reading as a writer - prose styles

2 items

Short readings will be provided in class in Week One (in the following weeks, you will print out the readings from the reading list and prepare for class as instructed in the LMS introduction). The recommended readings on the list here provide longer examples of these two different styles - plain and ornate

Week 2 Ways of Seeing

3 items

Extract - Sonya Hartnett

Chapter Required

Mateship with Birds - Carrie Tiffany

Chapter Recommended Read the first few pages and think about the naming of the cows and the way the cows look at the farmer.

The Lover - Marguerite Duras0002229463

Chapter Recommended Read the first ten pages and look at how Duras uses repetition to emphasise her imagery and create emotional impact.

Week 3 New Worlds

2 items

Singing My Sister Down - short story - Margo Lanagan

Chapter Required Apparently this ebook will only let you print 12 pages, so please read the whole story, then print out the 12 pages and mark them up for class.

Tlön, Uqbar, Orbis Tertius - short story - Jorge Luis Borges

Chapter Recommended A complex and detailed example of world creation. Borges is considered one of the great imaginative and intellectual writers, and has influenced many twentieth and twenty-first century writers.

Under Milk Wood - Dylan Thomas 20189781983718977

Book Required A full edition of the text is available via the sway, so please go directly to the sway.

Under Milk Wood - Rhys Ifans, Charlotte Church, Sara Sugarman, Kevin Allen 2015

Audio-visual document Recommended

Week 5 Revelations

2 items

The Penalty Is Death: Inside Bali's Kerobokan Prison - Luke Davies

Article Recommended This non fiction article is worth reading as a contrast to Keegan's work. Here Davies uses carefully placed shocks to jolt the reader out of complacency. Notice how he drops in the occasional sentence that demands the reader stop and think.

Week 6 The Writer on Reading and Writing

2 items

Sentences - Francine Prose

Chapter Required Please focus your attention on pages 35, the chapter opening, to p43 'something they might not be expecting.'

Week 7 Narratorial Consciousness

3 items

Part 1: A Lick of Night - Max Porter

Chapter Required Make sure you have read three different voices: Dad, Crow and the boys

Sport and a Pastime - James Salter 2012 (electronic resource)

Book Recommended Read chapters 6-11 inclusive, and pay particular attention to pp68-85 (chapters 6 & 7)

Week 8 Country Disturbed

3 items

Water - Ellen Van Neerven

Chapter Recommended This is a long story well worth reading for the way it interweaves Indigenous issues about country and loss and change into a narrative about a very different group of Indigenous inhabitants.

Week 9 The comic effect

2 items

Chapter Required Read the story, 'Today on Dr Phil'. Cho is known for his fantasist and absurdist stories that draw heavily on popular culture.

Extracts - Dodie Smith

Chapter Recommended This is the beginning of the book, which is a favourite of many writers for its pitch-perfect voice. Think about its gentle comical charm. How does the writer achieve this?

Week 10 Emotional Temperature

3 items

Good Country People - Flannery O'Connor

Chapter Required Short Story - read it and think about how she treats her characters.

We Are All Completely Beside Ourselves - Karen Joy Fowler

Chapter Recommended Read Chapter 3: starts on page 17. This book cleverly balances anger, humour and grief in the voice of the narrator. If you read the whole book it will break your heart. No wonder it won a lot of prizes.
Creative Commons Attribution-NonCommercial-NoDerivs 3.0 Licence
Profile Required
Reading intentions and notes are stored against your user profile. Please create a profile to use this feature.
My notes
You must be logged in to add a note
What are item notes?
You can use item notes to make personal notes on any of your reading items. Notes are private to you and will not be shown to other users.
You can review your item notes from the list, the item page or from your profile page.
---
How do I create an item note?
To make notes, first you must be logged in. Once logged in, simply click Add note? next to the list item you wish to make notes on. You can also make notes at the bottom of every item's detail page.
Your note will be saved automatically as you type.
Have you read this?
You must be logged in to set a reading intention
What are reading intentions?
Setting up reading intentions help you organise your course reading. It makes it easy to scan through your lists and keep track of progress. Here's an example of what they look like: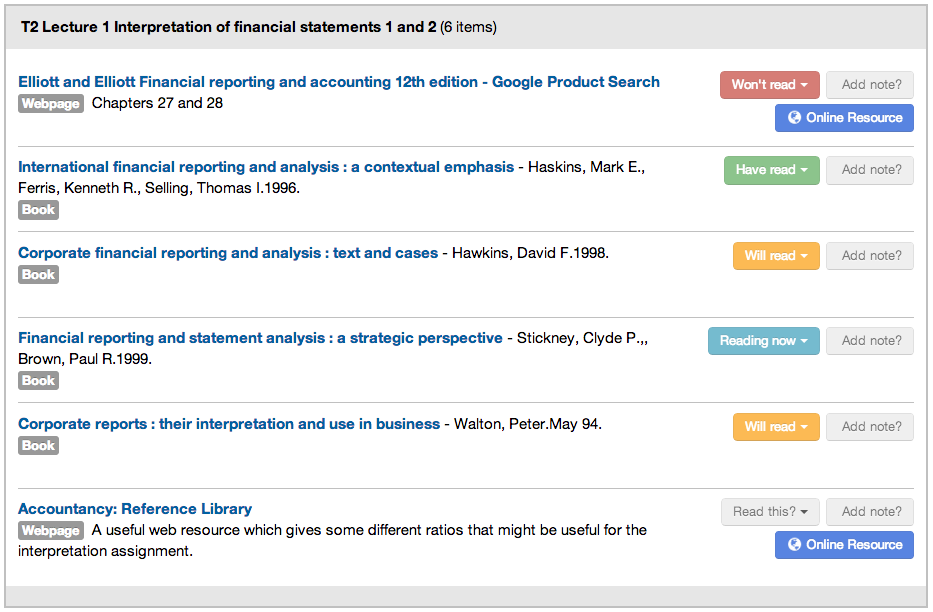 Your reading intentions are also stored in your profile for future reference.
---
How do I set a reading intention
To set a reading intention, first you must be logged in. Once logged in, click Read this? next to the list item you wish to set a reading intention for.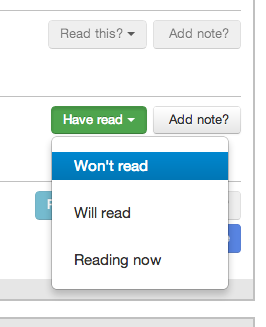 You can also set the reading intention from every item's detail page.