Document Stanford University Design Cycle process. A very helpful resource for design thinking/planing. SOM

Cooperation between the natural world and the human made world.

Sustainability thinking

45 items

Future proofing the world we live in.... how?

Emily Levine: How I made friends with reality | TED Talk

Webpage The wisdom of the balance between life and death as a metaphor for understanding sustainability and human conditions. (What?) OK, how not to think of yourself as the center of the universe and why that's a good thing to not think. SOM.

Webpage Fantastic innovations in solar roofing. really looking at the problems and solutions. Make sure you scroll down and watch the video.

Webpage Design thinking and educating. Perfect really.. SOM.

Webpage Replaces New inventors site. SOM

Victorian curriculum

4 items

curriculum links and connections

Teaching Learning resources

12 items

General Teaching Learning resources. SOLO and Bloom's Taxonomies. Teaching theories and paradigms, and such

Low tech solutions

16 items

Links to interesting innovations for creative problem solving

Webpage Very simple 'bird' kite. Great fun. Make one and see.

The Purpose Of Storyboarding 30/10/2012

Audio-visual document Explore the nature of story boarding... explains the 'why' of this wonderful tool. Disney used them all the time.

Hi tech solutions

11 items

Links to tricky Hi tech creative problem solving

Webpage High speed high definition video of activities. Click on gallery. Amazing really.

Webpage How do memory and the brain really work? How could you use this information?

Clips of interest for integrated curriculum and enagment

Film It | the filmmaker's toolkit | ACMI

Webpage Step by step process to create your own films/digital resource. You can make it big or you can make it quick-and-dirty (low budget), the choice is yours. Enjoy and explore, SOM.
Creative Commons Attribution-NonCommercial-NoDerivs 3.0 Licence
Profile Required
Reading intentions and notes are stored against your user profile. Please create a profile to use this feature.
My notes
You must be logged in to add a note
What are item notes?
You can use item notes to make personal notes on any of your reading items. Notes are private to you and will not be shown to other users.
You can review your item notes from the list, the item page or from your profile page.
---
How do I create an item note?
To make notes, first you must be logged in. Once logged in, simply click Add note? next to the list item you wish to make notes on. You can also make notes at the bottom of every item's detail page.
Your note will be saved automatically as you type.
Have you read this?
You must be logged in to set a reading intention
What are reading intentions?
Setting up reading intentions help you organise your course reading. It makes it easy to scan through your lists and keep track of progress. Here's an example of what they look like: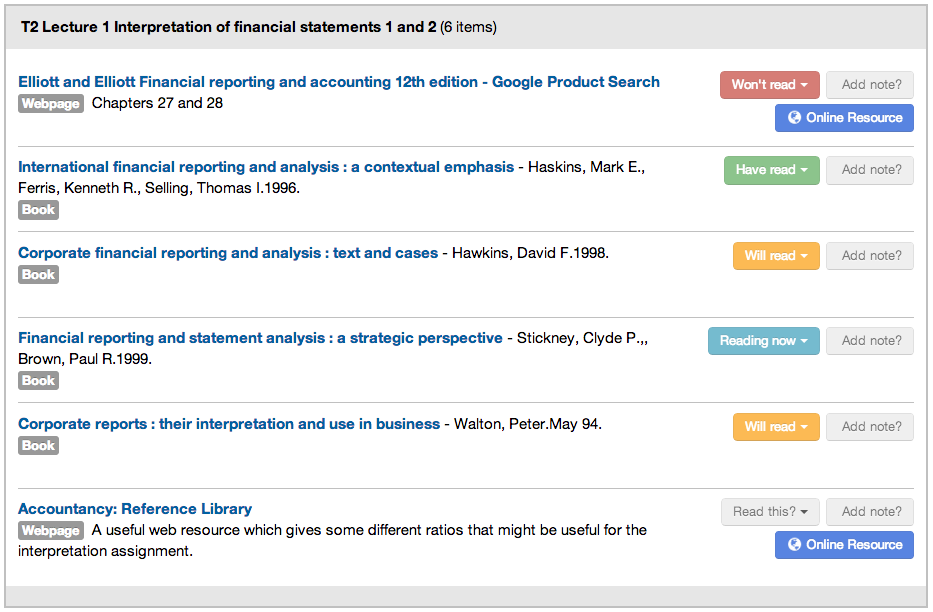 Your reading intentions are also stored in your profile for future reference.
---
How do I set a reading intention
To set a reading intention, first you must be logged in. Once logged in, click Read this? next to the list item you wish to set a reading intention for.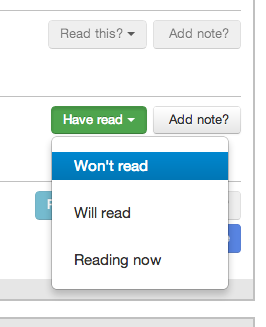 You can also set the reading intention from every item's detail page.